I've
mentioned before
that one of the books I have with me when I spend time with my Lord in the mornings is a Gratitude Journal. I've written about
my motivation to start one
, on a summer road trip. And I've mentioned
the book One Thousand Gifts
and
directed you over to Ann's website
to find some wonderful encouragement.
One thing I haven't done - until today - is list here what I am thankful for, and link it to Ann's weekly gratitude post. This is what I wrote today in my Gratitude Journal today, and because I was inspired to start numbering them (to 1000 and beyond), these are # 345 - 349:
A thoughtful gift from a thoughtful friend.
Following an impulse and finding it blesses others and me as well.
Wedding showers and joyful times.
Sunshine on the deck and painted toenails.
No wind walks with Sean.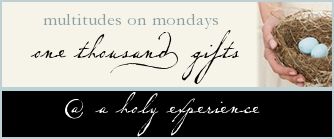 And this will take you to all my posts marked Thankful.